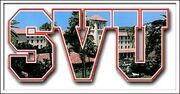 Sweet Valley University is part of the Sweet Valley High young adult book series created by Francine Pascal. The series featured twins Jessica and Elizabeth Wakefield starting college. Unlike any of the other spin-offs, SVU covered two years of the twins' lives, their freshman and sophomore years in college.
Elizabeth (Secret Love Diaries)
Jessica (Secret Love Diaries)
Sam (Secret Love Diaries)
Chloe (Secret Love Diaries)
Where a thriller would go into the series at, though the thrillers don't follow the series
Community content is available under
CC-BY-SA
unless otherwise noted.