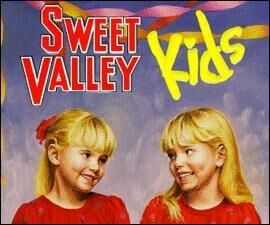 The twins as seven-year-old second graders at Sweet Valley Elementary School. The series included several Special Editions and "Super Snooper" mystery books.
The books are:
Surprise! Surprise!
Runaway Hamster
The Twins' Mystery Teacher
Elizabeth's Valentine
Jessica's Cat (Peter) Trick
Lila's Secret
Jessica's Big Mistake
Jessica's Zoo Adventure
Elizabeth's Super Selling Lemonade
The Twins and the Wild West
Crybaby Lois
Trick or Treat
Starring Winston Egbert
Jessica The Baby-Sitter
Fearless Elizabeth
Jessica The TV Star
Caroline's Mystery Dolls
Bossy Steven
Jessica and the Jumbo Fish
The Twins go to the Hospital
Jessica and the Spelling Bee Surprise
Sweet Valley Slumber Party
Lila's Haunted House Party
Cousin Kelly's Family Secret
Left-Out Elizabeth
Jessica's Snobby Club
The Sweet Valley Cleanup Team
Elizabeth Meets Her Hero
Andy and the Alien
Jessica's Unburied Treasure
Elizabeth and Jessica Run Away
Left Back!
Caroline's Halloween Spell
The Best Thanksgiving Ever
Elizabeth's Broken Arm
Elizabeth's video Fever
The Big Race
Good-Bye Eva?
Ellen is Home Alone
Robin in the Middle
The Missing Tea Set
Jessica's Monster Nightmare
Jessica Gets Spooked
The Twins Big Pow-Wow
Elizabeth's Piano Lessons
Get the Teacher!
Elizabeth the Tattletale
Lila's April Fool
Jessica's Mermaid
Steven's Twin
Lois and the Sleepover
Julie The Karate Kid
The Magic Puppets
Star of the Parade
The Jessica and Elizabeth Show
Jessica Plays Cupid
No Girls Allowed
Lila's Birthday Bash
Jessica + Jessica = Trouble
The Amazing Jessica
Scaredy Cat Elizabeth
The Halloween War
Lila's Christmas Angel
Elizabeth's Horseback Adventure
Steven's Big Crush
And the Winner is... Jessica Wakefield!
The Secret of Fantasy Forest
A Roller Coaster for the Twins!
Class Picture Day!
Good-Bye Mrs. Otis
Jessica's Secret Friend
The Macaroni Mess
The Witch in the Pumpkin Patch
Sweet Valley Blizzard
Little Drummer Girls
Danger: Twins at Work
Super Snooper Editions
The Case of the Secret Santa
The Case of the Magic Christmas Bell
The Case of the Haunted Camp
The Case of the Christmas Thief
The Case of the Hidden Treasure
The Case of the Million-Dollar Diamonds
The Case of the Alien Princess
Hair Raiser Super Special Edition
A Curse on Elizabeth
Super Special Editions
Trapped in Toyland
Easter Bunny Battle
Save the Turkey!
Elizabeth Hatches an Egg
Community content is available under
CC-BY-SA
unless otherwise noted.