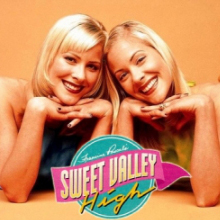 Sweet Valley High
is an American
comedy-drama
sit-com series very loosely based on
Francine Pascal
's
book series of the same name
.
The series ran from September 5, 1994 to October 14, 1997, and was produced (and distributed) by
Saban Entertainment
. The rights are now held by
Disney-ABC Domestic Television
.
After three seasons in syndication (mostly on Fox stations),[[|[3]]] the show moved to UPN for its fourth season, where it was canceled due to low ratings.
The series revolves around the lives of Elizabeth and Jessica Wakefield, beautiful blonde twins who live in the fictitious Sweet Valley, California, and their gang of friends. Elizabeth is warm, friendly and sincere, while her twin sister Jessica is flirty, mischievous, and irresponsible.
Cast and Characters
Edit
Ryan Bittle - Todd Wilkins (1994–1996)
Amy Danles - Enid Rollins Elizabeth's Best Friend
Michael Perl - Winston Egbert Todd's Best Friend
Harley Rodriguez - Manny Lopez Todd & Winston's Friend. Bruce Patman's right-hand man in the earlier episodes.
Bridget Flanery - Lila Fowler (1994–1996) Jessica's Best Friend
Shirlee Elliot - Lila Fowler #2 (1996–1998)
Jeremy Vincent Garrett - Todd Wilkins #2 (1996–1998)
Manley Pope - Devon Whitelaw (1997–1998)
Brock Burnett - Bruce Patman (1994–1995) Todd & Winston's rival
Christopher Jackson - Bruce Patman #2 (1995–1996)
John Jocelyn - Reginald "Shred" Patman (1996–1997) Bruce's Cousin & Winston's friend.
Andrea Savage - Renata Vargas (1997–1998) Jessica, Lila and Cheryl's Friend. Briefly boyfriend to Renata.
Tyffany Hayes - Cheryl Thomas (1995–1998) Elizabeth's Friend
Amarilis - Patty Gilbert (1994–1995) Jessica's cheerleader friend
Soundtrack
Edit
In 1995, a soundtrack album was released featuring original songs that were in the series along with a longer version of the show's theme song.
Track listing:
"Rose Colored Glasses"
"She's Got the Answers"
"Not Myself Today"
"Alive"
"Rest of My Life"
"My Jessica"
"All to Myself"
"Secrets"
"My World"
"On Our Own"
"She Walks in Roses"
"Sweet Valley High Theme" (TV version)
Main article: List of Sweet Valley High episodes
Home Entertainment
Edit
Over the years Sweet Valley High has been released on multiple formats. VHS releases carry some episodes, DVD-sets the complete seasons.
VHS Releases
Edit
There was a specially edited version of the multi-episode "Kidnapped" released on VHS aswell as the episodes "Dangerous Love".
DVD Releases
Edit
To date, Buena Vista Home Entertainment has only released Season one of Sweet Valley High on DVD in Region 1. The remaining three seasons of the series have yet to be released.
| DVD Name | Ep # | Release Date |
| --- | --- | --- |
| The Complete First Season | 22 | March 8, 2005 |
Community content is available under
CC-BY-SA
unless otherwise noted.